AFM Musicians Stand with SAG-AFTRA and Writers on the Picket Lines
Reprinted from July 31 Post from www.internationalmusician.org
In mid-July, the Screen Actors Guild and American Federation of Television and Radio Artists (SAG-AFTRA) went on strike, joining the Writers Guild of America (WGA) in calling for better pay and job security, and drawing attention to disparities in the film and television industry that have grown wider in the streaming boom. The strike came after weeks of failed negotiations between SAG-AFTRA and the Alliance of Motion Picture and Television Producers (AMPTP) and is the first time in over 60 years that both writers and actors have gone on strike at the same time.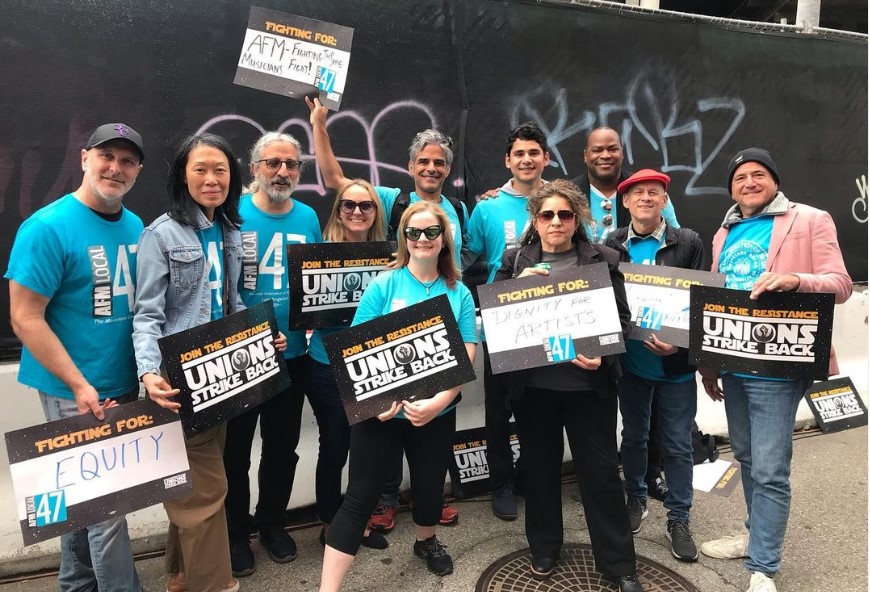 Alluding to a recent proposal from Hollywood studios, Duncan Crabtree-Ireland, SAG-AFTRA's chief negotiator says, "This 'groundbreaking' AI [artificial intelligence] proposal that they gave us yesterday—they proposed that our background performers should be able to be scanned, get one day's pay, and their companies should own that scan, their image, their likeness, and should be able to use it for the rest of eternity on any project they want, with no consent and no compensation. So, if you think that's a groundbreaking proposal, I suggest you think again."
The use of generative AI has been one of the major sticking points in negotiations between the two sides; it's also a major issue behind the writer's strike. Union members expressed concerns about how AI could exploit performers by using their likenesses without fair compensation.
Another major concern is dwindling compensation around residuals. Actors are compensated at a much lower rate for streaming projects. The production and distribution of streaming content is at the heart of all of this for everyone in the industry.
"The AFM represents the musicians that create the scores for motion picture and theatrical television as well as all aspects of live and recorded music. We provide the emotional foundation of every production. That emotion and score is triggered by the brilliant work of the actors represented by SAG-AFTRA. I am in full support. A shout-out to all our colleagues in the entertainment guilds to stand in solidarity with WGA and SAG-AFTRA in their current struggle for fair remuneration for the exploitation of our product," states AFM International President Tino Gagliardi.
AFM negotiations are scheduled around the expiration of Film and TV contracts (November) and Live TV Videotape contract (December). Marc Sazer, president of the Recording Musicians Association, vice president of Local 47 (Los Angeles, CA), and a member of Local 802 (New York City), has been an observer during both the writers and actors negotiations. He says, "Streaming and streaming residuals are front and center. The production and distribution of streaming content is at the heart of all of this for everyone."
Sazer points out that the companies that are undermining musicians' ability to make a living are also undercutting writers, directors, actors, animators, and crew members. "There is a newfound unity in the labor movement in our industry," he says. "Rank-and-file freelance recording musicians have been working and building for over a year to prepare a strong and effective campaign on behalf of our collective goals. We are constructing and organizing a web of relationships among musicians, educating each other, and learning from the models offered by writers and actors."